Take Your IT Leadership Career to the Next Level
CWIN Infotech Career Education Program helps learners gain skills in the latest emerging technologies
For a Successful Career, Build Job Ready Skills in 2023
Get Highly Qualified IT Job through CWIN Infotech, Karaikudi.
Aim for knowledge, spark up your career
Job consultancy in Karaikudi
Looking for Job Consulting in Karaikudi? CWIN Infotech offers a comprehensive job training with real-time experience. CWIN Infotech is a better place for job-searching candidates and employers. Join CWIN Infotech to get excellent consulting from our trainers, who are well-experienced and have hands-on industrial experience. CWIN Infotech provides Internship and Placement services. We are the best placement consultants in Karaikudi... About Us
Placement(assurance &
assistance)
Hands-on (Practical) Training


Building Personality
Skills
Placements
You can get a massive placement opportunities with us and we are working to keep that exclusively as possible.
Internship with Placement
We are providing a training program on a commitment basis. Candidates who are interested and looking for technology training with placement can apply.
Apply Now
Job Training with Placement
We provide job training with assured placement. We guide you to choose the right career and give them practical knowledge and skills .
Apply Now
Direct Placement
CWIN can find the students knowledge and technical skills and can guide how the IT/ITES sector will grow. Finally, the student selects their own, and we process.
Apply Now
Internship & Job Training
CWIN Infotech is a Software Development, IT consulting and Software Training Company located at Karaikudi. CWIN Infotech provides Internship to candidates where they can develop the Live Projects under our guidance.
We Offer IT/ITES Job Training and Placement
CWIN Infotech is a multi-business job training and placement institute in Karaikudi. IT placements like software engineer, IT analyst, etc., and ITES placements like BPO, KPO, etc. We are popular because the student will choose their own course, and for that designation, we provide training and assure placement.
Domains to which we offer placements
Though there are numerous IT training available, few are popular in terms of immediate employment opportunities.
Real-Time Final Year Projects
CWIN Infotech - the leading skill development company in Karaikudi provides best in class career oriented & real time Final year projects in Karaikudi for students pursuing B.E, B.Tech, M.E, M.tech, MCA, B.sc & M.sc, etc.
Supported Technologies
• Dot Net
• JAVA
• PHP/MySQL
• Cloud Computing
• Big Data/Hadoop
• Android
• iOS
• Digital Marketing
• Automation
• Embedded
• Cloud computing
• Networking
• Wireless Communications
• Mobile Computing
• Network Security
• Secure Computing
• Data Mining
• Image processing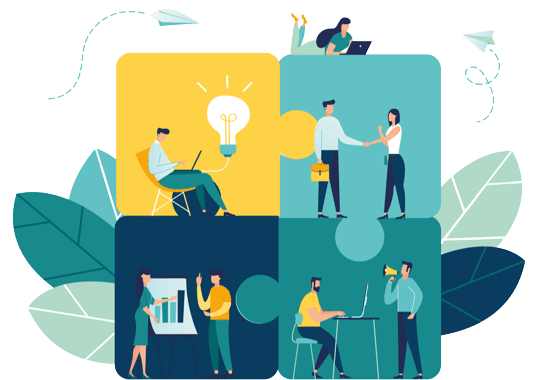 Top Companies where students placed
CWIN Infotech is proud to be an Equal Employment Opportunity and an Affirmative Action Employer and is committed to the culture of Inclusion and Diversity.